In the bustling city of Dubai, where beauty standards are as diverse as its culture, Rubaab Beauty Salon stands as a beacon of excellence and innovation in the realm of personal care services. Established in May 2022, Rubaab Beauty Salon has rapidly risen to become a prominent brand within the beauty industry, offering a comprehensive range of beauty treatments tailored to meet the unique needs of women. With a focus on professionalism, quality, and affordability, Rubaab Beauty Salon has not only captured the hearts of its customers. Still, it has also set new standards for personal care services in Dubai.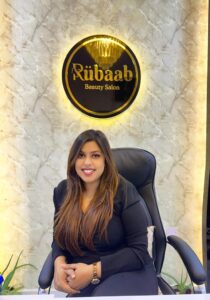 Sanjana: Founder of Rubaab Beauty Salon 
The brainchild of Sanjana, Rubaab Beauty Salon was born out of a visionary desire to fuse corporate professionalism with the world of beauty in the UAE. Drawing from her extensive 8+ years of experience working with various corporations, Sanjana recognized the need for a space that not only caters to the aesthetic needs of women but also provides an environment of sophistication and professionalism. This unique approach sets Rubaab Beauty Salon apart from its peers and has paved the way for a new era in the beauty and personal care industry.
Operational Excellence and Multilingual Diversity
Rubaab Beauty Salon's journey began in May 2022, and in just over a year, it has etched its name as a symbol of excellence and operational prowess. One of the key differentiators of the salon is its commitment to delivering value for money without compromising on product and service quality. This commitment is reflected in its staggering success rate of 73% repeat customers within the first year of operation. This statistic not only speaks to the quality of services offered but also stands as testament to the trust Rubaab Beauty Salon has managed to build with its clientele. In a city as diverse as Dubai, linguistic diversity is appreciated and necessary. Rubaab Beauty Salon recognizes this and has gathered a team of professionals from various nationalities. The team members are proficient in languages such as English, Hindi, Urdu, Tagalog, Konkani, Malayalam, Bengali, Tamil, and Sinhala. This multilingual workforce not only ensures effective communication with clients but also fosters an inclusive environment where every customer feels valued and understood.
Unparalleled Expertise and Experience
Rubaab Beauty Salon prides itself on its team of highly skilled professionals, each boasting more than 15 years of experience in the beauty and personal care industry. This wealth of experience enables them to not only provide a wide array of services but also to tailor each treatment to the specific needs of individual clients. Whether it's a rejuvenating facial, a transformative hair makeover, or an intricate bridal makeup, Rubaab Beauty Salon's experts bring an unmatched level of expertise to every service they offer.
A Gratitude for Customers and a Commitment to Excellence
As Rubaab Beauty Salon celebrates its journey of success, it holds its customers in the highest regard. The patronage of clients who have entrusted their beauty requirements to the salon has been instrumental in shaping its identity and reputation. Recognizing this invaluable support, the salon vows to continue its improvement journey, constantly raising the bar and setting new benchmarks for service standards. This commitment to excellence is not only a testament to the brand's dedication but also a promise to provide customers with the best possible experience.
Rubaab Beauty Salon stands as a living embodiment of the fusion between corporate professionalism and beauty services, redefining standards in Dubai's personal care industry. With its visionary founder, commitment to quality, and multilingual diversity, the salon has managed to captivate a loyal customer base and pave the way for a new approach to beauty and elegance. As it moves forward, Rubaab Beauty Salon's dedication to excellence ensures that it will continue to be a frontrunner in delivering top-notch beauty treatments, leaving a lasting impression on both its customers and the industry as a whole.